Hello everyone!
It's that time of the month again! It's time to talk about my favorite read of the month and making a wrap up of all the books I've read this March.
I do have to confess, I am kind of sad because I don't have as much time to read as before (my new job and my German classes are taking lots of my time!) but I am also glad that I can keep up with my blog and enjoying some great releases!
Now on to this March's Top Pick and Wrap Up!
---
My March 2017 TOP PICK is.. The Brave Line by Kate Stewart!
(Standalone)
She is a five foot seven long list of things he can't have.
He is a determined cop, desperate to keep his heart sealed behind his badge.
Michelle is a survivor. With a fresh perspective on life, she trades her tragic past in California for the coastal waters of Charleston. Fueled by a new career as a dispatcher, she's determined not to let her scars weigh her down. She apologizes for nothing, especially her insatiable need for a certain police officer.
Rowdy is a newly minted sergeant dedicated to his job, but the life of a Charleston police officer has never been more dangerous. With his need to take order of a city spiraling out of control, the last thing he wants is an entanglement with a mouthy dispatcher. But, there's just one problem. He can't get enough of her.
As the heat rises between the unlikely pair, so does the tension.
Three months of summer was all it took to shake their foundations, rattle their walls, and bring them crashing down.
It was lust.
It was love.
It was real.
And it would have been perfect . . . if it wasn't already over.
---
This is not the typical love story, guys. The Brave Line is an angsty, funny, heartfelt and oh-so-sexy masterpiece.
CLICK THE IMAGE to read MY REVIEW:
---
As I mentioned, I don't have as much time as before but I still  managed to read 7 books this March. This list will be in reading order, in other words, by date. 
5 stars for DIRTY DOCTOR by Whitney G!
Whitney G. is killing it this year! You probably know how much I love Whitney's dirty heroes and she obviously did not disappoint with this short story about a dirty doctor and his new resident. For me, even better than Naughty Boss!
MY REVIEW | GOODREADS | AMAZON
____________________________________
3.5 stars for THE DEEP END by Kristen Ashley!
Kristen Ashley definitely took me out of my comfort zone with this one! I was extremely scared to start this book (because of its main and original theme) but I actually enjoyed The Deep End more than I expected!
MY REVIEW | GOODREADS | AMAZON
____________________________________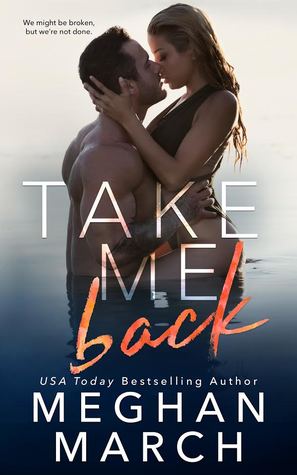 5 stars for TAKE ME BACK by Meghan March!
Another great story by the magnificient Meghan March. I love second chance love stories and this was right up my alley! A dirty and protective hero, a fantastic heroine and lots of sexy times and some suspense? Heck yes!
MY REVIEW | GOODREADS | AMAZON
____________________________________
4.5 stars for SAY I'M YOURS by Corinne Michaels!
Trent Hennington.. need I say more? Corinne made me fall in love all over again with these hot and heartfelt heroes and sassy and strong heroines! Loved Trent and Grace and this second chance love story! All the feels ❤
MY REVIEW | GOODREADS | AMAZON
____________________________________
4.5 & 5 stars for SWEET ADDICTION and SWEET POSSESION by J. Daniels!
A friend recommended this series to me and I finally had the time to start and fall in lust/love with J. Daniels writing! I loved these two books so much but my favorite thing? FUCKING REESE! He is dirty AF and so alpha, I could not stop myself from loving him to pieces! Highly recommend checking these novels out!
MY REVIEW 1 – 2 | GOODREADS | AMAZON
---
And that is all for this last month, bookies! I hope you find some amazing reads within all of these ones! Feel free to tell me your favorites or any recommendations down in the comments!!
Happy reading!
Alba xx