Wild Card, an all-new contemporary STANDALONE by New York Times Bestselling author Karina Halle is LIVE!!!
Wild Card by Karina Halle
Release Date: August 15th
Genre: Contemporary Romance
---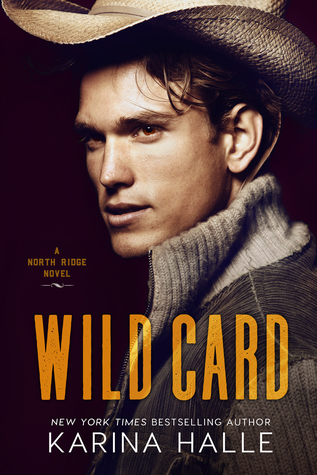 Wild Card is a standalone novel and the first book in the North Ridge Trilogy about rough and rugged Canadian mountain men, the Nelson brothers. Canada's never felt so hot.
She swore she'd never go back home.
She swore she'd never see the man who broke her all those years ago.
But you don't always get to choose your path.
And sometimes that path is as wild and rugged as the heart.
Rachel Waters thought she saw the last of the small mountain town of North Ridge, British Columbia, when she left six years ago. But while her advertising career blossomed beneath the skyscrapers of Toronto, her mother's sudden illness has the 26-year old returning to North Ridge to care for her, putting her career on hold while dealing with family secrets, regrets and unresolved goodbyes.
Shane Nelson has always been a bit of a wild card. The youngest of three brothers, Shane's spent most of his life being underestimated and misunderstood. With his quiet intensity, classic good looks and thoughtful demeanor, he's an enigma on horseback, managing his father's sprawling ranch on the slopes of North Ridge.
But while Shane remains the quintessential brooding cowboy, complete with an arsenal of inner demons, all of that changes when Rachel steps back into his life.
She was the girl he pushed away.
Now she's the girl who wishes she could leave.
Despite the odds, Shane will do everything to convince Rachel he needs a second chance that he doesn't deserve but when the two of them head off into the wilderness together in search of lost cattle, more than just their hearts are at stake.
Whether it's love or lives on the line, one thing is for sure: always bet on the wild card.
---
4.5 'Our wishbone' Stars!
ARC provided by the author via Social Butterfly PR in exchange for an honest review.
In the last few months Karina Halle has become one of my favorite authors. So you can imagine my excitement when she announced a new series about hot (and Canadian!) cowboys. I got even more excited (I feel so lucky!) when I got the ARC and now I can say I absolutely loved this emotional love story!
Wild Card is the first installment in the North Ridge series and it is focused on three siblings who hadn't had the easiest life. This book is about Shane Nelson and Rachel Waters: two people who loved each other fiercely when they were young but very bad circumstances forced their separation and now they reunite after six long years apart.
All I knew was that the love we shared was over.
Years of being full.
Heartful, soulful, wonderful.
All gone.
And he finally gave me the will, the drive, to leave North Ridge behind.
Never to look back.
Never to return.
Until now. 
I freaking adore second chance romances and Karina did an amazing job with this one! Wild Card is angsty, dramatic, emotional and, of course, sexy as heck. The chemistry between the main couple is palpable from the very first page and those flashbacks made the story even better! Shane and his raven girl are so beautiful together!
"Rachel," he whispers hoarsely. He tucks my hair behind my ear, gently cupping my face as he stares into my eyes. "I love you. Body and soul. I will never stop loving you. I will never stop being there for you. You're my whole fucking life, Raven." 
Obviously, not everything is hearts and flowers (and mindblowing sex!) for them: there are quite a lot of dramatic events that will break your heart and keep you connected to the story! Also, Wild Card has a fantastic list of characters and after finishing I have to say I am really looking forward to the next two books in the series.
"I'm your home. I've always been your home even when you've been somewhere else, even when you were hating me, trying to forget me, my heart has been your home." 
Therefore, I am rating Wild Card with 4.5 STARS because it was a beautiful second chance love story that gave me all the feels from the very beginning until the end. I want more of these wonderful characters! So, definitely, if you enjoy sexy cowboys who fight to get their first and only love back, check this book out!
---
Add to Goodreads: https://goo.gl/6WuDjh
---
Karina Halle is a former travel writer and music journalist and The New York Times, Wall Street Journal and USA Today Bestselling author of The Pact, Love, in English, The Artists Trilogy, Dirty Angels and over 20 other wild and romantic reads. She lives on an island off the coast of British Columbia with her husband and her rescue pup, where she drinks a lot of wine, hikes a lot of trails and devours a lot of books.
Halle is represented by the Root Literary and is both self-published and published by Simon & Schuster and Hachette in North America and in the UK.
Facebook  Amazon  Instagram  Reader Group  Newsletter  Website
---
HOSTED BY: