Hello everyone and Happy October!
Fall is here and it's time to get cozy, change your wardrobe and continue reading like crazy! Yeah, this change of season has already affected me (girl with a cold, right here..) but it definitely did not affect my reading! So another month has passed so you know what time it is! It's that time of the month to talk about my favorite read of last month and making a wrap up of all the books I've read this past September.
This September has been a great month for me, I've read quite a lot actually and that is always good! Still it seems I can't keep up with my Goodreads challenge at all and I hate seeing that I am so behind! But leaving that aside, I hope you all had a fantastic September!
Now let's get on to Septembers's Top Pick and Wrap Up!
---
My September 2017 TOP PICK is.. ROYALLY MATCHED by Emma Chase!
(Royally #2)
Some men are born responsible, some men have responsibility thrust upon them. Henry John Edgar Thomas Pembrook, Prince of Wessco, just got the motherlode of all responsibility dumped in his regal lap.
He's not handling it well.
Hoping to help her grandson to rise to the occasion, Queen Lenora agrees to give him "space"—but while the Queen's away, the Prince will play. After a chance meeting with an American television producer, Henry finally makes a decision all on his own:
Welcome to Matched: Royal Edition.
A reality TV dating game show featuring twenty of the world's most beautiful blue bloods gathered in the same castle. Only one will win the diamond tiara, only one will capture the handsome prince's heart.
While Henry revels in the sexy, raunchy antics of the contestants as they fight, literally, for his affection, it's the quiet, bespectacled girl in the corner—with the voice of an angel and a body that would tempt a saint—who catches his eye.
The more Henry gets to know Sarah Mirabelle Zinnia Von Titebottum, the more enamored he becomes of her simple beauty, her strength, her kind spirit… and her naughty sense of humor.
But Rome wasn't built in a day—and irresponsible royals aren't reformed overnight.
As he endeavors to right his wrongs, old words take on whole new meanings for the dashing Prince. Words like, Duty, Honor and most of all—Love.
---
You want want a sexy royal playboy? You got it! You want a cute cheeky bookworm that makes him fall at her feet with love? You got it! You also want lots of romance, hot AF sex and all the emotions? You SO got it too!
CLICK THE IMAGE to read MY REVIEW:

---
As I mentioned before, September has been a very good month in the reading department for me: I've read a total of 14 books! As always, this list will be in reading order, in other words, by date.
4 stars for ROYALLY RAISED by Emma Chase!
Of course after finishing Royally Matched I had to read this sweet and adorable short story about Henry, Sarah and their children! This is twenty years after the end of the second book in the series and it was so beautiful! Loved seeing this couple I love so much being part of a family and still loving each other like the first day!
____________________________________
3 stars for WEDNESDAY by Kendall Ryan!
I got this short story as a freebie during this month and I decided to give it a go (also to help with my GR challenge lol). Well, the couple was definitely hot but I also have to say the whole behavior of both of them at the beginning kind of ruined part of their chemistry later for me. Still, I enjoyed the reading experience!
____________________________________
4.5 stars for DRUNK ON YOU by Harper Sloan!
I have one word to describe this book and the HOT AF hero: YUM! My Kindle (and myself!) was burning because damn.. this couple is off-the-charts hot. I mean, ladies.. Shane knows how to dominate (in delicious French language!!!!!). Also, Harper Sloan never fails to deliver a love story full of emotions and with fantastic characters.
____________________________________
4 stars for RECKLESS by Nicole Edwards!
Oh boy, this was definitely reckless! I actually remember reading this book a while ago but I don't know why I didn't add it to Goodreads. But if you want to read a sexy MM romance by Nicole Edwards, this one is a great way to start! You'll surely enjoy it! Also the whole series sounds pretty good to me!
____________________________________
4.5 stars for TRIPPED OUT by Lorelei James!
I feel great after reading this short story (and it's not because of the weed these two make! lol). Tripped Out is funny, extremely entertaining and sexy as hell! The sexual tension between Liam and Stirling is off-the-charts HAWT. And they are just so hilarious and adorable together. I really loved this short story and that wonderful ending!
____________________________________
4.5 stars for EXES WITH BENEFITS by Nicole Williams!
Can we take a moment to appreciate how Nicole Williams is able to make me experience every feeling possible while reading her books? I am a mess of emotions when I finish her books! I adored swoony Canaan (everything he does for Maggie, how deliciously romantic and funny he is, gah!!!) and the love he shares with his beloved Maggie.
____________________________________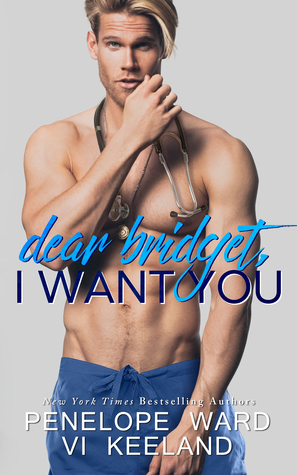 5 stars for DEAR BRIDGET, I WANT YOU by Penelope Ward and Vi Keeland!
This book is my second favorite this month (it was pretty difficult to decide my Top Pick!). I completely understand why the authors say Simon is their favorite hero to date. Every time these two women get together it's pure magic: their stories feel SO real and their characters are so well-developed that you connect instantly with them. Bridget and Simon are another fantastic addition to their couples!
____________________________________
4 stars for ON A TUESDAY by Whitney G.!
Second chances is one of my favorite themes in romance writing and Whitney is also one of my favorite authors so.. of course, those two things together worked perfectly. I know what I will get every time I read anything by this woman: a sexy asshole hero, a strong heroine, some drama and LOTS of heat and On a Tuesday was no exception!
____________________________________
4 stars for RETROSEXUAL by Ainsley Booth and Sadie Haller!
Another freebie I've read this month! Actually, I am a fan of the Frisky Beavers series so that was definitely a plus for me! Really enjoyed this short story between a married couple reconnecting.  I think it's still FREE on Amazon so go and get it right now!
____________________________________
4.5 stars for RACER by Katy Evans!
Many of us had been impatiently for this book to come out. This is REMY freaking TATE's son, everybody! And well.. Racer Tate will rock your world because he is very much like his father! Katy Evans is one of my top favorite authors and she did not disappoint with this highly anticipated love story. The love between this couple will melt you all over the place!
____________________________________
4 stars for STUD FINDER by Lauren Blakely!
Another winner by Lauren Blakely! I love what she is able to present to her readers in such a short format: great profound characters, an entertaining storyline and a couple that melts you with their sweetness! Evie and Dylan's connection is amazing from their very first meeting and I loved them! I really enjoyed reading Stud Finder!
____________________________________
5 stars for SWING by Adriana Locke!
Gah! Man.. I do love the Landrys.. First Barrett and now Lincoln. I adored the first book and the second one is no different. It brought me the same feelings but with a fantastic new couple and a new theme (sports, yay!). Dani and Lincoln are so funny, so HOT and so sweet together and I love they found ther happily ever after in each other.
____________________________________
5 stars for TIMES SQUARE by Jana Aston!
My first read by Jana Aston and definitely not the last one! This novella was absolute PERFECTION! Funny, romantic and oh-so-sexy: Times Square is the perfect fast read for anytime you have the time for a quick treat. I love a good short story that has everything I enjoy in romance books and this one surely delivered!
---
And that is all for this last month, bookies! I hope you are having a great start of this new season and that you are finding some amazing reads within all of these ones! Feel free to tell me your favorites or any recommendations down in the comments!!
Happy reading!
Alba xx