Hello everyone and Happy November!
This girl is very excited because Christmas is happening soon and that means holidays, cozy times without the stress of the job and all that (to me) translates into more time to read (which is freaking awesome)!  Time is passing by like crazy and well as you know by reading this post another month has ended. It's that time to talk about my favorite read of last month and making a wrap up of all the books I've read this past October.
So, this last month has been kind of slower than September. I haven't read as much and I also decided to change my Goodreads challenge. I knew I could not keep up with it and I would not be able to read 150 books so I made the decision to change that quantity to 125. I am good now and ahead of schedule! lol But leaving that aside, I hope you all had a fantastic October!
Now let's get on to October's Top Pick and Wrap Up!
---
My October 2017 TOP PICK is.. CUFFED by K. Bromberg!
(Everyday Heroes #1)
From the New York Times bestselling author, K. Bromberg, comes a new series about three brothers, the job that calls them, and the women who challenge them.
"I hate you. I never want to see you again."
Grant Malone is not the reason I moved back to Sunnyville—at least that's what I tell myself. Yet, those parting words I said to him back in third grade, ring in my ears every time a townsperson brings up one of the Malone boys. I thought time had healed my wounds. I was wrong. Nothing could have prepared me for how I felt when I finally saw him again.
Twenty years does a lot to turn a boy into a man. One who hits all my buttons—sexy, funny, attractive, and a police officer. But Grant is off limits because he knows too much about my past.
But I'm drawn to him. That damn uniform of his doesn't hurt either. It'll be my downfall. I know it.
What's one night of sex going to hurt . . . right?
***
I've always loved Emmy Reeves.
That's why I'm shocked to see her all these years later. The shy girl I once knew is all grown up.
Adventurous and full of life, she owns my heart now, just as much as she did back then. Convincing her of that is a whole different story.
I'll give her the one night she asks for—like that's a hardship—but when it comes to letting her walk away after, she has another thing coming. There's no way in hell I'm letting her go this time without a fight.
---
Cuffed overflows with emotions. Cuffed is beautifully written. Cuffed is heart-breaking and heart-warming. Cuffed is, of course, sexy as hell. Cuffed is one of the best works K. Bromberg has written. Cuffed is simply magical.
CLICK THE IMAGE to read MY REVIEW:
---
As I said at the beginning, this October has been slower than the month before. I've read a total of 9 books this time! As always, this list will be in reading order, in other words, by date.
5 stars for THIS IS DANGEROUS and THIS IS BEAUTIFUL by Kennedy Fox!
I can't believe this was the last duet in this amazing series, guys! I do have to say: well done, Kennedy Fox! Because Logan and Kayla's duet was the perfect way to end this. Their love story was so beautiful to read, I did not want it to end. For me, this duet definitely is the best creation by this duo to date.
____________________________________
4.5 stars for SWEET TIME by Nina Lane!
Nina Lane has been an auto-buy author for me for what it seems the longest time. I love her stories because all of them manage to be extremely sweet, romantic and emotional but also pretty fucking sexy! Of course, Sweet Time was no exception to that. I loved every minute of reading this sweet and sexy love story.
____________________________________
5 stars for DRIVE by Kate Stewart!
This also is on my top favorites this month! Kate Stewart wrecked me with this novel, absolutely wrecked me! If you know me, you also know I am not a massive fan of love triangles. Well, you also know I am a massive fan of Kate so, of course, I will make an exception when it comes to her. Kate and her stories have worked their way into my heart and I wasn't about to let this one pass. And get ready because you are about to experience the ride of your life with Drive!
____________________________________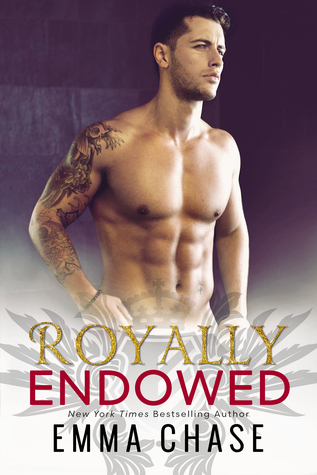 4.5 stars for ROYALLY ENDOWED by Emma Chase!
It was just months ago that I fell in love with all these characters and I was not ready to say goodbye because they have taken a piece of my heart with them (thank God Emma announced a new series that has characters from Royally!!!). Royally Endowed was highly anticipated by all the fans and boy.. Emma Chase did not disappoint us! Logan and Ellie are just the sweetest couple in the series!
____________________________________
4.5 stars for MAVERICK by Karina Halle!
Karina is coming strong with her North Ridge series and Maverick is no exception. It seems these books are extremely emotional (and extremely sexy!) and I am definitely not complaining on any of it. Besides how smoking hot this book is, what is even more beautiful to read is how this couple falls in love. Karina Halle delivered another fantastic love story that will stole your heart completely!
____________________________________
5 stars for HARD WOOD by Lauren Blakely!
Another beloved series that ended this month.. Hard Wood is the last in the Big Rock world and one of my top favorites reads this month too! I FLOVE a good friends to lovers romance. It's one of my favourite tropes in the genre and Lauren made it even more special with this one: it was epic! So yeah, it was hard to say goodbye to all these fantastic characters but I will sure revisit them from time to time because I loved every single one of them!
____________________________________
4.5 stars for MISADVENTURES OF A BACKUP BRIDE by Shayla Black! 
It had been quite some time since my last book by Shayla Black and I am glad I decided to give this novella a go. I was pleasently surprised! It was sexy, entertaining and with a good dose of emotions. It had everything I enjoy in a good romantic short story and I also like Shayla's writing so I am not complaining at all!
---
And that is all for this last month, bookies! I hope you are having a great start to this new month and that you are finding some amazing reads within all of these ones! Feel free to tell me your favorites or any recommendations down in the comments!!
Happy reading!
Alba xx