THE KISS QUOTIENT by Helen Hoang is NOW AVAILABLE!!
---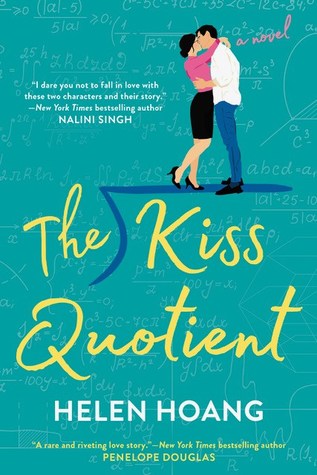 A heartwarming and refreshing debut novel that proves one thing: there's not enough data in the world to predict what will make your heart tick.
Stella Lane thinks math is the only thing that unites the universe. She comes up with algorithms to predict customer purchases–a job that has given her more money than she knows what to do with, and way less experience in the dating department than the average thirty-year-old.
It doesn't help that Stella has Asperger's and French kissing reminds her of a shark getting its teeth cleaned by pilot fish. Her conclusion: she needs lots of practice–with a professional. Which is why she hires escort Michael Phan. The Vietnamese and Swedish stunner can't afford to turn down Stella's offer, and agrees to help her check off all the boxes on her lesson plan–from foreplay to more-than-missionary position…
Before long, Stella not only learns to appreciate his kisses, but to crave all the other things he's making her feel. Soon, their no-nonsense partnership starts making a strange kind of sense. And the pattern that emerges will convince Stella that love is the best kind of logic…
---
5 'Love and economics' Stars!

ARC kindly provided by the the publisher.
I know I just had to read this book. I had this feeling it would blew my mind and it absolutely did! After seeing so many good reviews about it, I had to see what all that raving was about and I am so happy to say this reached my expectations 100%. Guys, even more amazing, this is Helen Hoang's debut novel and it's the perfect romance novel. Get ready to fall in love with Helen's writing and the unique characters she has created because Stella and Michael wll steal your heart completely!
The Kiss Quotient, as I said, is Helen's debut novel and it belongs to the series with the same name. This is the exceptional love story between Stella Lane, a very sharp woman focused on her work as an econometrician and a woman who is very bad at relationships. Enter Michael Larsen, an escort with lots of secrets, very protective of the people he loves and the man that will change Stella's perspective on relationships forever.
Going forward with Michael, she had to tread carefully. Everything about him pleased her. Not just his looks, but his patience and his kindness. He was good.
He was an obsession waiting to happen. 
I love a smart romance. I love a story that grips me from the very start to the very end. I love complex and unique characters that present aspects I haven't seen before in romance. I love a couple that cannot contain a beautiful connection. The Kiss Quotient has all of that and so much more. It's one of the best books I have read this year and its originality will stay in my heart for a long time, along with all the wonderful characters Helen Hoang has introduced us to in this novel.
Lines were blurring, and he couldn't distinguish his professional life from his personal life. 
So, why is this a 5 star read for me? Besides the way the story flows, it is all because of the main characters. They are so deep, full of layers you'll want to know all about and with a chemistry that will melt you from the inside out. Michael and Stella are the sweetest together, the special (and unconventional) relationship they have made my heart sing with happiness. Most of the time I had a huge of smile on my face because of the way these two interact with each other.
"You are my favorite puzzle." 
And what is even better is when you add all those emotions in the mix. Imagine how difficult it is for Michael to accept the feelings he has for his client. And also how difficult it is for Stella, the want she has to hide her Asperger's from the man she loves because she is scared of his reaction. But when all that fear is left aside, when these two decide to fight for what they want, it was delightful to read. I am so happy this couple found each other and they get their happy ending. Gah, I loooooooved this book so much!
"Women buy underwear for the men they love. It's economics. Data supports this claim."
"Are you telling me you love me, Stella?" 
Therefore, my rating for The Kiss Quotient is 5 STARS because it definitely is one of my top favorite reads of 2018. This brilliant debut novel just blew my mind. I loved everything about it and I can't wait to read whatever Helen is writing next. I am so glad I decided to give this book a go! I am surely excited this is becoming a series because I am so curious about all the other characters. I do hope they get a story as amazing as this one because I can't get over my love for Stella and Michael! Highly recommend this book to any romance lover!
---
---
"You've watched Pretty Woman too many times. Kissing doesn't mean anything, and it's always best if you're not thinking too much in bed. Trust me," he said.
Her mouth thinned into a stubborn line. "This is too important for me not to think. I'd rather not kiss anymore if you don't mind."
Michael's irritation redoubled, and he forced his hands to relax before he popped all his blood vessels. How the hell had he gotten himself into this? Ah yes, he'd been worried about his escort colleagues taking advantage of her. Stupid of him. His life was complicated enough without worrying about his clients. This was exactly why he had the one-session policy.
He would have backed out—it was tempting—but he'd promised. He always carried through on his promises. It was his way of balancing out the universe. His dad had broken enough promises for the both of them.
"All right," he made himself say. "No kissing."
"Do the other plans look okay?" she asked.
He forced himself to read them and found them pretty similar, only she'd moved from hand jobs to blowjobs and changed the sexual positions.
Amused despite himself, he said, "I'm surprised you used the terms 'doggy style' and 'cow girl.'"
Her cheeks went bright red, and she adjusted her glasses. "I'm inexperienced, not clueless."
"Your plans are missing something important." He held his hand out, and she placed the pen in his palm with wary motions.
She tilted her head to the side as she watched him write FOREPLAY at the top of all the plans in capital letters. As an afterthought, he drew a box in front of each iteration with hard stabs of the pen.
"But why? I was under the impression men don't need it."
"You do," he said flatly.
She wrinkled her nose and shook her head. "You don't have to bother with me."
He narrowed his eyes. "It's not a bother. Most men like foreplay. I do. Getting a woman hot is satisfying as hell." Besides, he was not having sex with her if she wasn't ready. No fucking way.
Swallowing, she stared down at the menu. "So you're saying I don't have a chance to improve."
"What? No." His mind scrambled to figure out why she might say that and came up with nothing.
"You saw how I reacted. It was one button."
"And then you slept with me all night. You were basically naked, and you cling."
"Are you two ready to order?" the waitress interjected. Judging by the amused glimmer in her eyes, she'd caught the last part of their conversation.
Stella perused the dinner options, her nails picking at the fabric edging of the menu.
"We'll have the special," Michael said.
"Wise choice. I'll leave you to it." The waitress winked, gathered the menus, and disappeared.
"What's the special?" Stella asked.
"I have no idea. Let's hope it's not woolly."
A troubled frown bracketed her mouth, and she leaned forward hesitantly, meeting his eyes for the briefest second. "What exactly do you mean by 'cling?'"
Michael grinned. "It means you like to cuddle when you're asleep."
"Oh."
She looked so horrified Michael couldn't help laughing. "I confess to liking it." Which was the truth, and unlike him. Cuddling was an obligatory thing he did for his clients because he understood they needed it. He usually spent the time counting the seconds until he could leave and go home to shower. Holding Stella had been nothing like that. They hadn't had sex, so there'd been nothing to wash away, and the trusting way she'd curled into him had made him feel things he didn't want to think about.
---
Helen Hoang is that shy person who never talks. Until she does. And the worst things fly out of her mouth. She read her first romance novel in eighth grade and has been addicted ever since.
In 2016, she was diagnosed with Autism Spectrum Disorder in line with what was previously known as Asperger's Syndrome. Her journey inspired THE KISS QUOTIENT, which comes out in June 2018 with Berkley.
She currently lives in San Diego, California with her husband, two kids, and pet fish.
Helen is represented by Kim Lionetti of BookEnds Literary Agency.