5 'Chucks' Stars!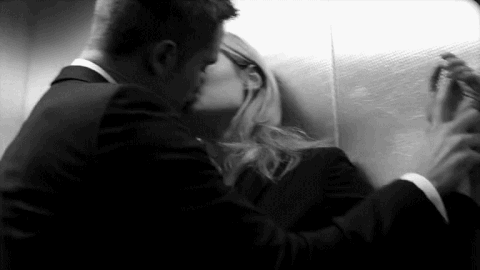 Ok. Now I am mentally kicking myself for not reading a full-lenght novel by L.J. Shen before now. Yes, this is not my first taste because I actually read her story in the Team Playeranthology called The End Zone and it was one of my favorites in the collection. I don't know what exactly made me decide that Dirty Headlines would be the first actual novel I would read by this author but I believe the blurb just really catched my attention. I am all over angsty, forbidden and sexy love stories. But this book is so much more: it was simply amazing!
So, Dirty Headlines is Leigh Shen's newest standalone release and it's the forbidden love story between Célian Laurent and Judith "Jude" Humphry. The story starts with this couple actually meeting and having a verra hot one-night-stand. Well, imagine now that our heroine has finally found a new job and who happens to be her boss? Célian freaking Laurent, of course. Célian is a quite the asshole from the very beginning but Jude does not take any bullshit from him. She needs the job, she needs to pay her debt and help her ill father. Célian is also a very focused and closed man, he lost a very important person in his life and now he is decided to become the sole owner of his news network. How will these two "enemies" become lovers? Or so much more.. Read this fabulous book and find out!
"Don't try to convince me you're a good girl," he hissed, his breath—mint and fresh coffee beans—skating along my throat. "I don't give a fuck." 
Ok, let me just say this first. I ADORED THESE COUPLE. ADORED THEM! A huuuuuge broken jerk and a strong fierce woman? Oh yes! I find Shen's characters absolutely unique and simply perfect in their own ways. Yes, Célian is an asshole with capital A and an alpha with a capital A. But who does not love seeing a cocky alpha-hole falling prey to love? And let me tell you, the woman that does that is just as amazing as Célian. Jude is smart, caring and a fighter for her dreams who is also not afraid to answer back to whatever Célian or anyone throws at her. These two together, gah! I can't put it into words how much I loved every single scene!
"I can't fall in love, Célian. I'm broken."
"Good. Let's be broken together, then."
"I'm ordering room service. Clean up and let me know what you want, because your pussy is about to be my starter."
And you know what makes Dirty Headlines even better? Of course, the explosive chemistry between Célian and Jude. Holy Mother of God, guys! Célian is one filthy dirty talker and I loooooooove him. He is definitely one of the dirtiest heroes I've ever read. That mouth.. that mouth knows exactly what to say and what to do, ladies. And let's just say that his mouth is not the only thing he knows how to work because the man is oh-so-hot-and-intense. I love a couple that burns with chemistry and these two do not lack, that is for sure! And yes, they both think love is not something they deserve, their early scenes are very focused on the physical, but it's impossible not to see how the feeling grabs them every time they lock eyes. Obviously, love wins and they fall head over heels in love. And it's wonderful to read! I absolutely loved the ending!
Somehow, he fit. If there was one thing I'd realized this year, it's that sometimes we belong in the last place we thought we'd ever be. 
Therefore, my rating for Dirty Headlines is 5 STARS because, as I expected, L.J. Shen surprised me in the best way possible. I truly expected an outstanding love story (many of my book friends rave about her books all the time!) and I was not disappointed AT ALL. This novel was mind-blowing, the characters unique and their chemistry inflammable. Célian and Jude stole my heart completely with their forbidden love story and the sexy and emotional moments they have together. Now I can say that I need to check more of Leigh's novels because I am addicted already! Guys, do not miss this one and check it out. Highly recommend it!