It's time for you to meet Ava and Caleb in all his grumpy Scotsman glory.. FIGHT OR FLIGHT by Samantha Young is NOW AVAILABLE!
---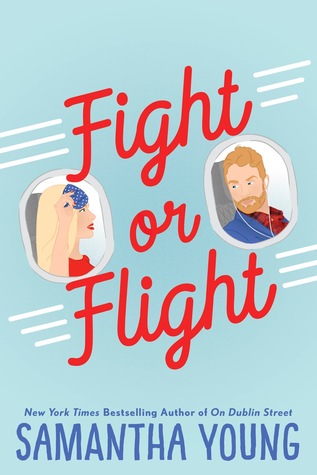 A series of chance encounters leads to a sizzling new romance from the New York Times bestselling author of the On Dublin Street series. 
The universe is conspiring against Ava Breevort. As if flying back to Phoenix to bury a childhood friend wasn't hell enough, a cloud of volcanic ash traveling from overseas delayed her flight back home to Boston. Her last ditch attempt to salvage the trip was thwarted by an arrogant Scotsman, Caleb Scott, who steals a first class seat out from under her. Then over the course of their journey home, their antagonism somehow lands them in bed for the steamiest layover Ava's ever had. And that's all it was–until Caleb shows up on her doorstep.
When pure chance pulls Ava back into Caleb's orbit, he proposes they enjoy their physical connection while he's stranded in Boston. Ava agrees, knowing her heart's in no danger since a) she barely likes Caleb and b) his existence in her life is temporary. Not long thereafter Ava realizes she's made a terrible error because as it turns out Caleb Scott isn't quite so unlikeable after all. When his stay in Boston becomes permanent, Ava must decide whether to fight her feelings for him or give into them. But even if she does decide to risk her heart on Caleb, there is no guarantee her stubborn Scot will want to risk his heart on her…
---
4.5 'Easier to love you' Stars!
ARC kindly provided by the the publisher.
An absolute winner by Samantha Young! I was so excited when I discovered about this book because if you know this author, then you know about her Dublin Street series, which is full of love stories featuring Scot hunks (and the amazing women that change their lives forever). So when I read about Fight or Flight and I saw we were getting a new and exciting story with a grumpy and sexy Scotsman, I was all over it! Especially when I saw it was a hate to love story between two people who start knowing each other in a flight to Boston.
So, Fight or Flight is Samantha Young's upcoming standalone release and it's an enemies to lovers romance. Caleb Scott and Ava Breevort meet in an airport in an unfriendly encounter where both want to get a first class seat on their next flight. Well.. circumstances put them next to each other on said air travel. And it's pretty obvious these two can't stand each other. However, there is a lot of sexual tension between them too and they finally share an unforgettable one-night stand that later becomes a no-strings attached relationship. Do Ava and Caleb really hate each other? Will love get in the way? Will they forget their difficult pasts together? Read it and find out!
"You"—I gestured to him, saying the word slowly so his tiny brain could compute—"Stole. My. Seat."
"You"—he pointed down at me—"Are. A. Nutjob." 
In my opinion, the Dublin Street series by Samantha Young is one of the best in the romance community. The woman knows how to write one emotional and sexy love story with complex and lovable characters. And Fight or Flight is no exception. This book has a gripping and entertaining storyline, outstanding and deep main and secondary characters, a good dose of sexual tension, lots of sexy moments and emotions running high. I was hooked to the story from the very start to the very end: all because of Ava and Caleb's chemistry and also because of the amazing secondary characters in the novel (especially Harper and Jamie).
Somehow, impossibly, I'd developed feelings for my Bastard Scot.
Feelings plus sex?
Bad idea. 
Because let's talk about these two. Ava Breevort and Caleb Scott have pasts that stop them from really committing to anything serious. Both affected on their last relationships, decide to embark on an only-sex and friendship agreement. Obviously that happens after they see they do not really hate each other that much! And said common ground works for a while. The chemistry between them is stormy and combustible and I mean.. who complains on having a hot Scot dirty talker? Not me! But, obviously, feelings do get in the mix and the story gets extremely emotional too. And it's so heartbreaking but also an absolute delight to read. I am just so glad Ava and Caleb found each other because their love story is just fantastic!
"Only you," he suddenly whispered. […] He rested his forehead against mine, holding me tight. "You have the power tae hurt me. Only you." 
Thefore, I am rating Fight or Fligth with 4.5 STARS because every aspect of the story was on point for me. Yes, I do have to say I wished the epilogue was a little more extensive but everything else was perfect for me. I was addicted to the story, how it developed, the main couple and their chemistry, the secondary characters and all those feelings as well. I loved it so much! The Bastard Scot and his wee yin *sigh* I am just so happy and I do hope Samantha writes Harper's story too because I want it so badly (and I hope she falls for Caleb's brother, Jamie lol). Highly recommend!
---
---
Samantha Young is the New York Times, USA Todayand Wall Street Journal bestselling author of adult contemporary romances, including the On Dublin Street series and Hero, as well as the New Adult duology Into the Deep and Out of the Shallows. Every Little Thing, the second book in her new Hart's Boardwalk series, will be published by Berkley in March 2017. Before turning to contemporary fiction, she wrote several young adult paranormal and fantasy series, including the amazon bestselling Tale of Lunarmorte trilogy. Samantha's debut YA contemporary novel The Impossible Vastness of Uswill be published by Harlequin TEEN in ebook& hardback June 2017
Samantha has been nominated for the Goodreads Choice Award 2012 for Best Author and Best Romance for On Dublin Street, Best Romance 2014 for Before Jamaica Lane, and Best Romance 2015 for Hero. On Dublin Street, a #1 bestseller in Germany, was the Bronze Award Winner in the LeserPreis German Readers Choice Awards for Best Romance 2013, Before Jamaica Lane the Gold Medal Winner for the LeserPreis German Readers Choice Awards for Best Romance 2014 and Echoes of Scotland Street the Bronze Medal Winner for the LeserPreis German Readers Choice Awards for Best Romance 2015.
Samantha is currently published in 30 countries and is a #1 international bestselling author.
Website | Facebook | Twitter | Instagram | Goodreads