The Intimacy Experiment by Rosie Danan is NOW LIVE!!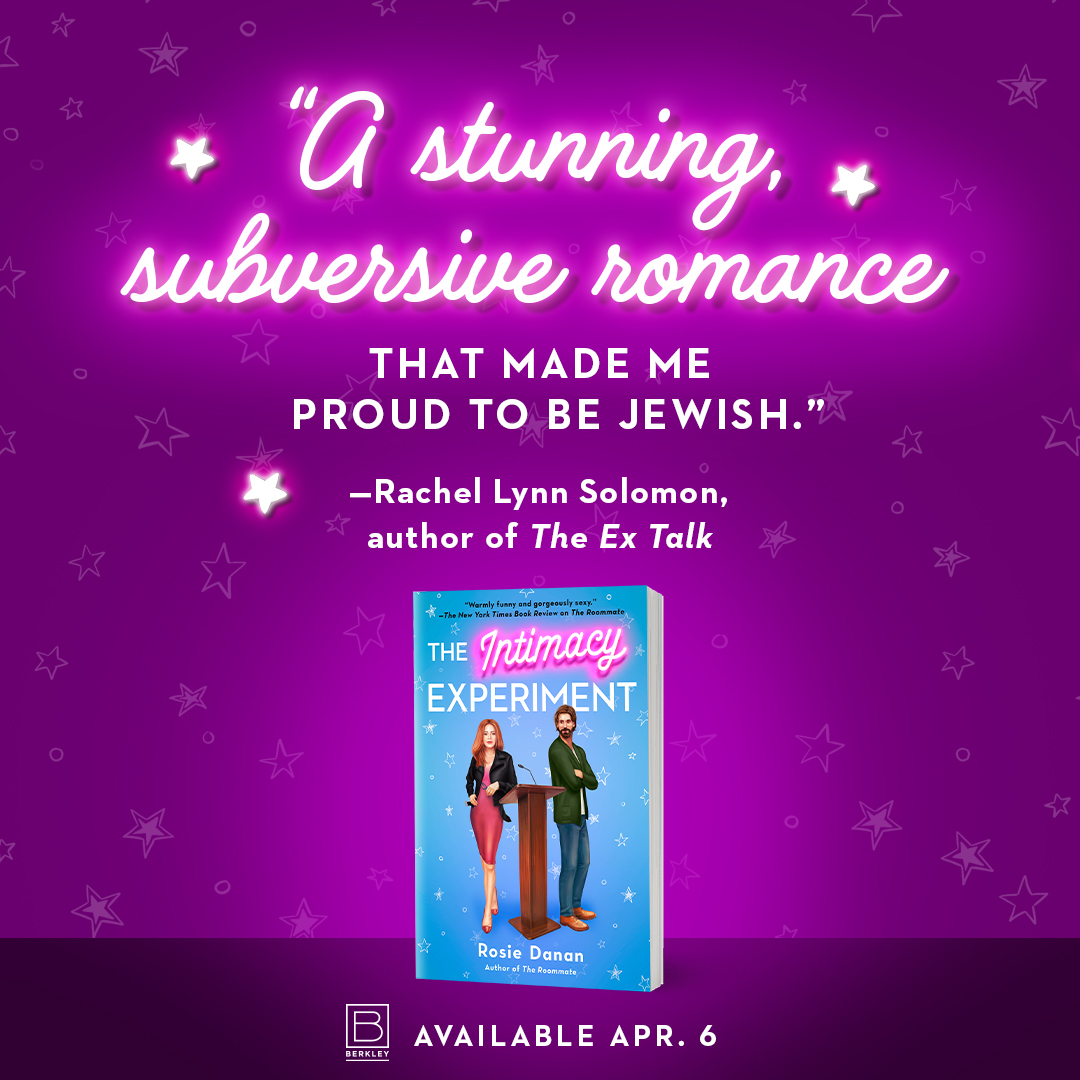 ---
4 'Tender' Stars!

ARC provided by the the publisher in exchange for an honest review.
I am thoroughly and happily surprised with Rosie Danan and her second romance novel! While her debut The Roommate was a bit of mix of hit and miss for me, I have to say The Intimacy Experiment was so much better in all aspects. I didn't have problems with the writing and I really connected with this unique couple. I mean, Rosie certainly went out of the typical romance stories bubble and she did it wonderfully with Naomi and Ethan's love story.
The Intimacy Experiment is the second (and last?) installment in Rosie's The Roommate series and it continues the story of the crew we met in the first one. Now it's time for Naomi to find her happy ending. Naomi Grant is a former porn star turned sex educator who is having a bit of a difficult time finding someone interested in her live lectures. Enter Ethan Cohen, a young rabbi trying to save his synagogue. Their worlds collide when Ethan proposes a seminar series on Modern Intimacy to Naomi. And what starts as intimacy lessons turns into a connection filled with sexual tension and a whole array of emotions.
He was like a current. Powerful and fluid in ways that had nothing to do with wanting her but that pulled her in all the same.
I am always up for love stories that test boundaries and The Intimacy Experiment really surprised me on that and many other aspects. I was a bit sceptic starting this one because of the mixed feelings I had about The Roommate. However, as I saw myself completely engaged in the story and its couple, I literally could not stop reading! Naomi and Ethan are so different from each other, complete opposites almost but they work so well together. As they get to know each other better, it's so clear they have a very special connection that cannot be stopped.
"Whatever it is, this thing between us, it won't be easy."
"Whatever it is, this thing between us," he repeated, "I want it."
Yes, it's not an easy relationship to start, not when people are criticizing their differences and backgrounds but it's still unstoppable. The chemistry and connection between these two was to die for. I mean, the sexual tension was fire and when they finally acted on it: double fire! And their feelings for each other… so sweet! I loved these two together and I am so glad they ended up finding their HEA.
Ethan wasn't afraid of love. The problem was that love didn't seem big enough, wide enough, for the way he felt about her.
Therefore, I am rating The Intimacy Experiment with 4 STARS because it was a great reading experience for me. Seeing these two opposites learning to love and get passed the obstacles between them, I was all over it from start to finish! Naomi and Ethan are definitely my favorite couple from Rosie Danan and I am sure many others will love their unique love story. I can't wait to see what this author brings next!
---
THE INTIMACY EXPERIMENT by Rosie Danan


is now on sale!

bit.ly/TIE-danan