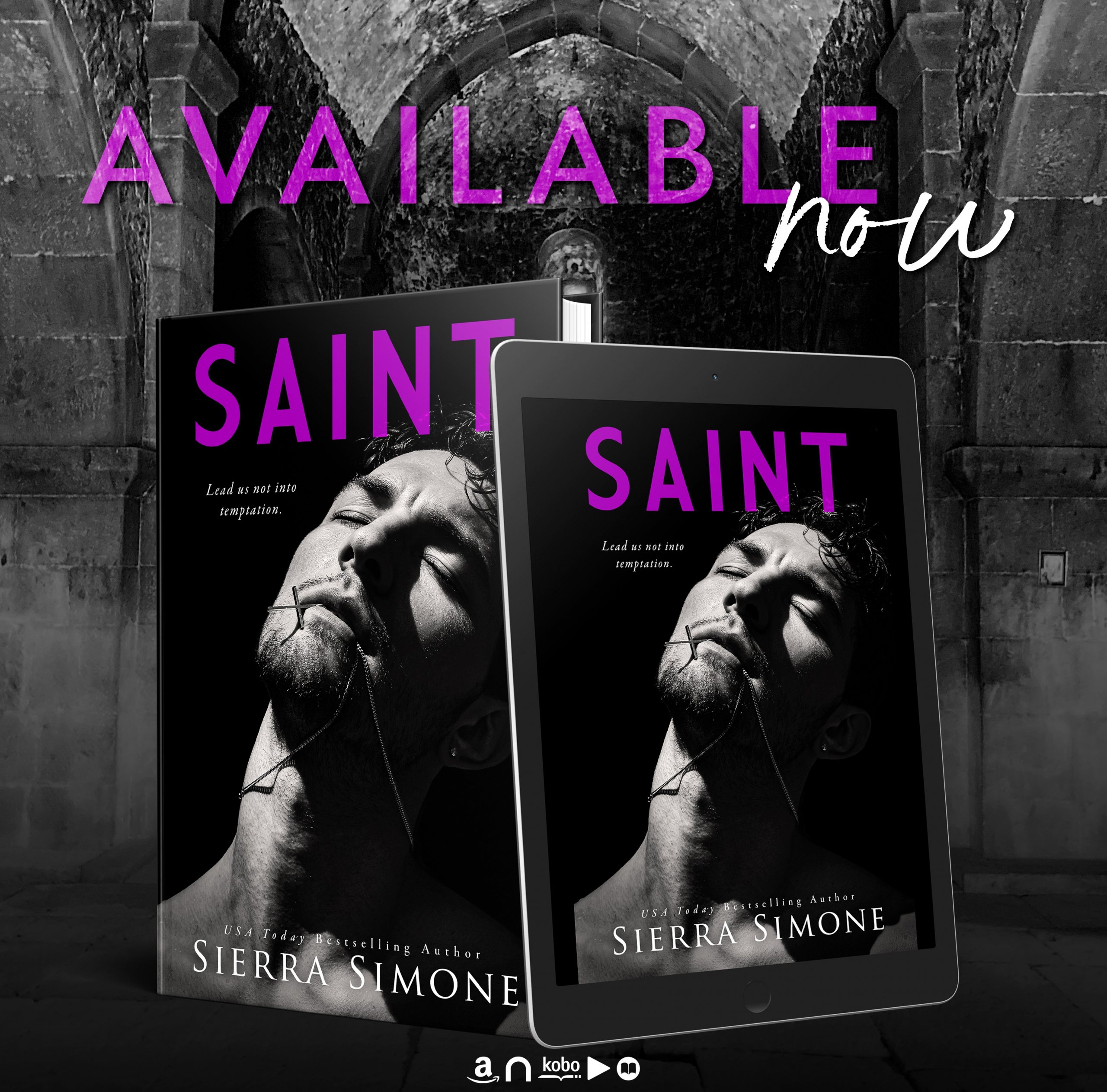 SAINT by Sierra Simone
Release Date: September 7th, 2021
Genre/Tropes: M/M/Second-chance romance/Brothers Best Friend/Forbidden Romance
---
I can't have Elijah Iverson.
I can't have him because he's my older brother's best friend. I can't have him because I broke his heart five years ago; because he's now engaged to someone else—someone kind and dependable who deserves his whiskey eyes, his soft mouth, his fierce intellect.
I can't have Elijah because I've chosen God instead.
The Bell brothers, though . . . well, we don't exactly have the greatest track record with vows. But I'm determined to do this monk thing right—to pledge myself to a cloistered life and spend the rest of my years in chastity and prayer. But now Elijah's here. He's here and he's coming with me on my European monastery road trip, and between the whispered confessions and the stolen kisses and the moments bent over an ancient altar, my vows are feeling flimsier by the day.
And vows or not, I know in my heart that it would take more than a good and holy monk to resist Elijah Iverson right now. It would take a saint.
And we all know that I'm no saint.
(This is the third full-length standalone in the Priest Collection, featuring Father Bell's brother, Aiden Bell. You do not have to read Priest or Sinner to read Saint.)
---
4 'What if…' Stars!

ARC provided via Candi Kane PR in exchange for an honest review.
We are back in Sierra Simone's Priest world and in company of the charming Bell brothers again! Now it's time for Aiden to find his way to happiness and that happens to be with his brother's best friend. Also, yes, this is a taboo / second chance MM romance and my first MM novel from Sierra, and I have to say, it definitely reached my expectations. This series and characters are so unique, and every love story is a wonderful journey full of new findings, a delicious amount of steam and a whole array of emotions.
So, Saint is the third installment in Simone's Priest series, and it focuses on Aiden Bell, a man who apparently had everything he could possibly need in life, including the love of the man he adored and, all of sudden he leaves everything behind (no explanations) and decides to become a monk. Five years later, Aiden has found a new way to live and he has accepted that Elijah Iverson is never going to be back in his life. That changes though, when Elijah does come back. And he comes bearing news: he is getting married and he is about to join Aiden on his tour through several European monasteries. What could go wrong?
I came here to leave my past life behind, I came here to live entirely for God, but Elijah keeps blooming in me, and I can't seem to stop him.
What a roller coaster! I mean, I know that when it comes to Sierra Simone, I will not get a light and drama-free romance. I know I am getting complex characters who are going through life-changing decisions and living not-typical love stories. Aiden Bell is no exception. He has changed his life completely after going through very difficult times and after accepting he was living in a lie. His only truth was his love for Elijah, but he feels guilty and not deserving of having the love of that man. He becomes a monk and he seems to be in a better place mentally but he is not able to forget what he had with Elijah. And that gets even more difficult when he enters back into his monotonous life.
"You chose God over me, and somehow that's worse than anything else I'd ever thought of, because I can't compete with God, Aiden." He gives a short laugh which sounds like it's been punched out of him. "I can't compete with fireflies in the cloister."
Both men are unable to fight against the connection they still share and the burning chemistry between them is unstoppable. I mean… These two together? It was deliciously forbidden and simply explosive. Their chemistry and love for each other is one for the books that is for sure! So, they start their relationship again but now in secret but is it worth it to live in the shadows? Is this the life Aiden really wants? Is Elijah able to leave him behind after everything they have shared? Who will Aiden choose? Elijah or God? You have to read Saint to find out because this girl is not giving any of that away!
"I just want to love you. Without inhibition, without guilt. Without a divided heart."
Therefore, I am rating Saint with 4 STARS because all over again Sierra Simone has done it. The Bell brothers keep getting better and this series is one of those you cannot miss, especially if you are a fan of taboo romance! I think Sierra did a very good job with Aiden and Elijah's love story. I loved seeing their past and present and how their love for each other finally wins. This is my first MM romance from hers and I have to say I am a fan. And I am so glad we are getting more of this series, because I need Jordan's story like now! I loved Saint as much as the other stories, so I definitely recommend reading this one too!
---
Add to Goodreads: http://bit.ly/Saint_GR
---
Sierra Simone is a USA Today Bestselling former librarian (who spent too much time reading romance novels at the information desk.)
She lives with her husband and family in Kansas City.
Facebook / Twitter / Amazon / Goodreads / Instagram / Website / Newsletter
---
HOSTED BY: