The Love Hypothesis by Ali Hazelwood is NOW AVAILABLE!!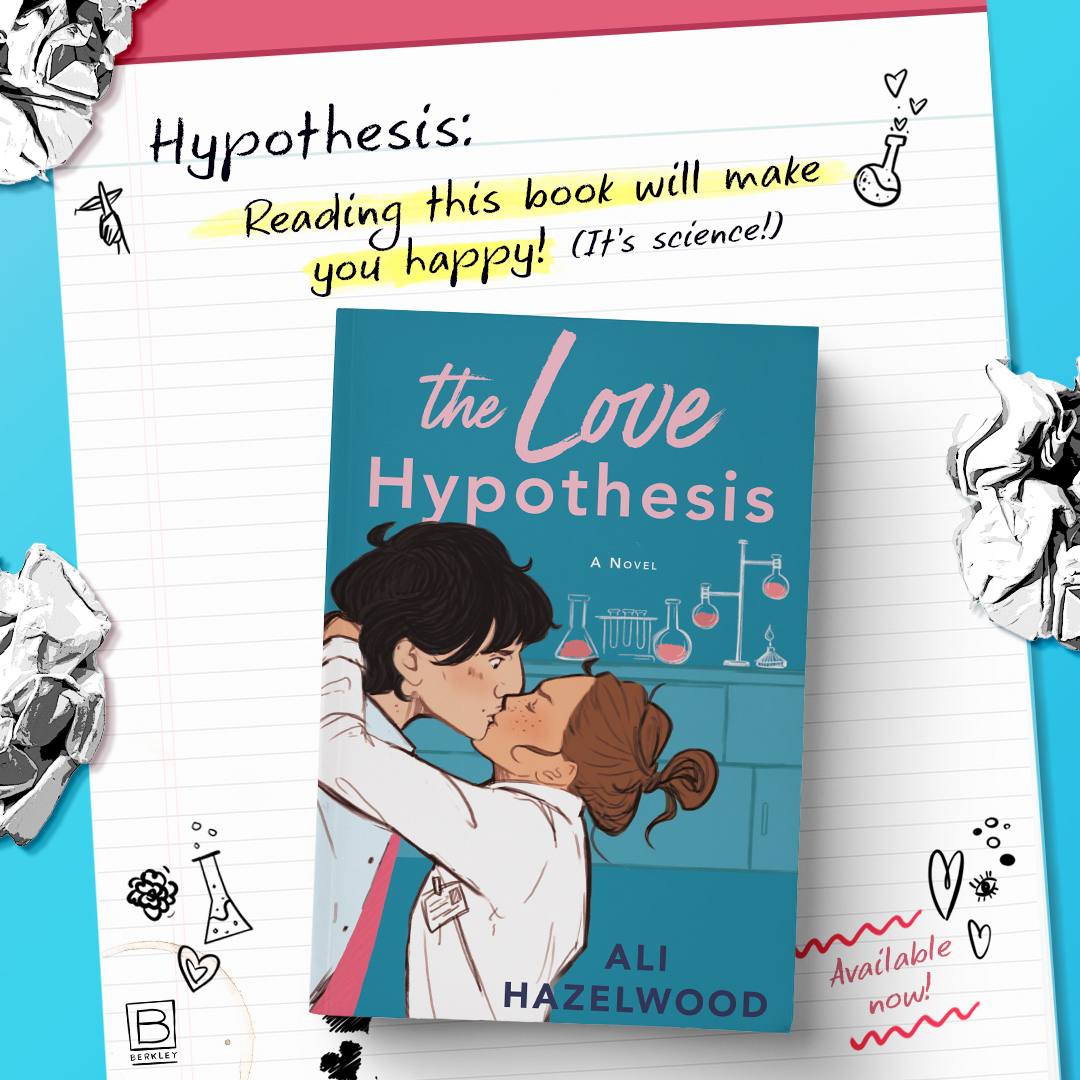 ---
4 'You can fall in love' Stars!

ARC provided by the the publisher in exchange for an honest review.
I am that kind of reader that is 50% super excited / 50% scared shitless when it comes to new authors and their debut novels. But The Love Hypothesis by Ali Hazelwood sounded right up my alley and I jumped at the opportunity to get an early copy when Berkley contacted me. And I am so glad I did! This is probably my favorite debut romance novel from 2021 and you'll understand why I thoroughly enjoyed it as soon as you start reading this quirky, funny as hell and adorable romantic comedy!
So, as I said, The Love Hypothesis is Ali Hazelwood's first book and it's all about Olive Smith, a PhD candidate who, in order to convince her best friend she is dating someone, kisses the first man she sees. Enter Adam Carlsen. He is a young professor and kind of a known jerk. Olive wasn't expecting him to accept her proposition (to start a fake relationship) but she is surprised when Adam accepts. That is the start of a strange and slow burning connection between two opposites who also happen to be very attracted to one another (but are afraid to accept and confess said chemistry).
There was a lot about Adam Carlsen she didn't know. He was an ass, but with unexpected depths.
I seriously loved The Love Hypothesis. This romance surprised me in the best of ways that is for sure! I am a sucker for unexpected connections and having one of the main characters loving the other from afar. I wasn't expecting Adam to be so protective of Olive and I found it absolutely adorable. He hides so much from her just to keep their fake relationship from falling apart and it almost destroys their relationship. That's probably the only thing that I didn't enjoy about this book: there is too much miscommunication between this couple. I just wanted to shake them both so much at times because it was so clear they wanted to be together! Still, Ali developed this story so well, these characters were so smart and lovable and their interactions so funny and emotional at the same time. And yes, it was a slow burn, but it was so delicious (even though I wanted more of that amazing steam!) and I cannot wait to see what Ali brings us next!
It was frightening. Frightening, how good this felt. How easy it would be to never stop. To let time stretch and unbend, forget about everything else, and simply stay in this moment forever.
Therefore, I am rating The Love Hypothesis with 4 STARS because I can assure you this debut novel will steal many romance lovers' hearts. Ali Hazelwood did a fantastic job with her first book and made me fall in love with this adorable couple. Both Adam and Olive are wonderful characters (together and apart) and their love story had all the elements of a great romance (beside that annoying miscommunication!) that many readers will enjoy. As I said, I hope we get more of these characters and I am excited to see what Ali comes up with next!
---
Buy your copy today!

bit.ly/lovehypothesis